Cursed Review- King Arthur legend fails with its feminine twist.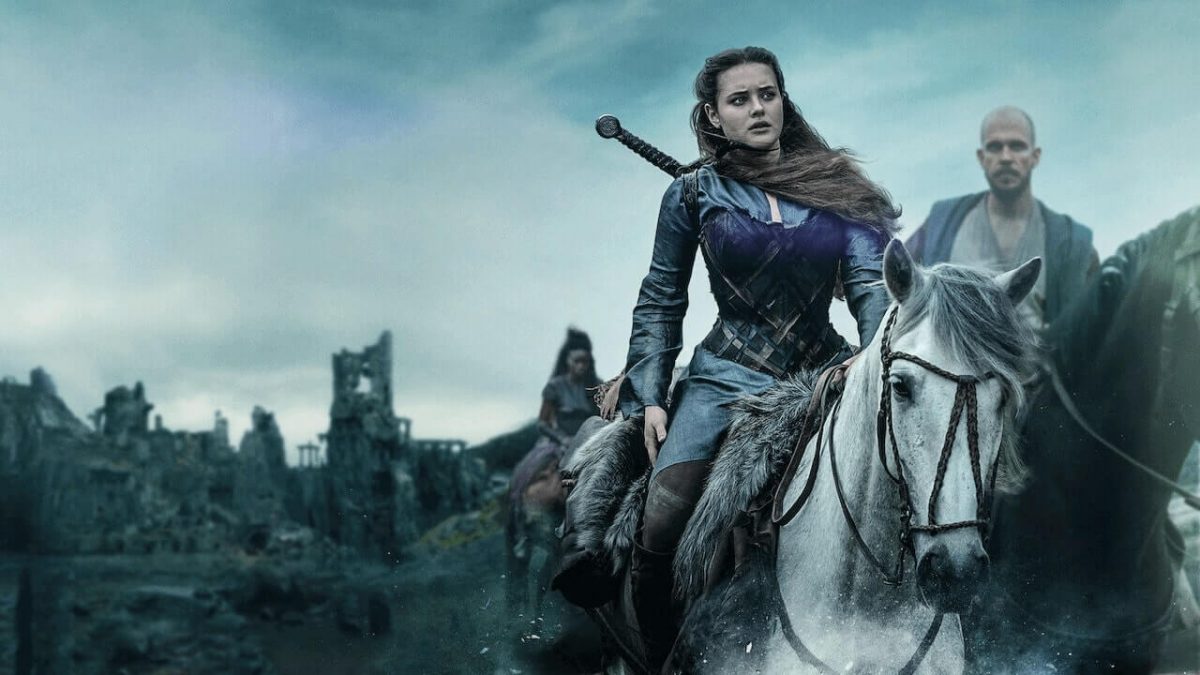 Cursed has officially released on Netflix and the trailer had gotten our hopes very high with regards to characters and the story. Watching Katherine Langford back on the screen after loving her in 13 reasons why was also one of the main attractions of this show. The trailer showed us something like another Game of Thrones anthology but managed to reach only halfway there with its picturization and story-line.
The series is based on the famous novel by Frank Miller and Tom Wheeler on the tales of King Arthur. Marion Zimmer Bradley tries to show the story of King Arthur in another light with Ninue leading the story. It pictures a Britain in which Nimue belongs to a race of otherworldly beings called the Fey, who are being persecuted by an order of zealot monks called the Red Paladin, led by Peter Mullan's Father Carden. There is Merlin, as well, played by Vikings and Westworld star Gustaf Skarsgård. Nimue is destined to give the future kind his sword and protect it and fights every evil on the way as she tries to accomplish her mission.
The series has a lot of good things about it that will make you want to watch. At the same time, you will have to bear through three to four episodes to get to the actual drama and feel the vibes of the Fey and Red Paladins as well. The series had got our hopes very high after we watched Game of Thrones and saw the trailer of Cursed. I guess it is a disappointment if you watch it with high hopes or else it definitely does justice to the story and is worth a watch.
Cursed Web Series full Details- Trailer, Cast, Release Date, Platform, New Season, Director :
Cursed Web Series is releasing on Netflix on date 17-July-2020, we would refresh you once we found any information about the next season of the Movie.
Cursed Web Series Cast
Katherine Langford as Nimue
Devon Terrell as Arthur
Gustaf Skarsgård as Merlin
Daniel Sharman as The Weeping Monk
Sebastian Armesto as King Uther Pendragon
Lily Newmark as Pym
Shalom Brune-Franklin as Sister Igraine
Peter Mullan as Father Carden
Emily Coates as Sister Iris
Billy Jenkins as Squirrel
Matt Stokoe as Gawain
Jasper Jacob as Sir Borley
Adaku Ononogbo as Kaze
Sophie Harkness as Sister Celia
Cursed Web Series Available Language: English, Hindi
Cursed Web Series Streaming Partner: Netflix
Cursed Web Series Release Date: 17 July 2020
Cursed Web Series Director: Jon East, Daniel Nettheim, Zetna Fuentes, Sarah O'Gorman
Cursed Web Series Producers: Alex Boden, Ben Holt, Mike Horvath, Silenn Thomas, Zetna Fuentes, Frank Miller
Cursed Web Series Music: Jeff Russo
Cursed Web Series Writer: Frank Miller, Tom Wheeler, William Wheeler, Leila Gerstein, Janet Lin, Rachel Shukert
Watch Cursed Trailer Here :- Click Here
Cursed Review- King Arthur legend fails with its feminine twist.