Skater Girl review- The village girl who dared to dream on wheels.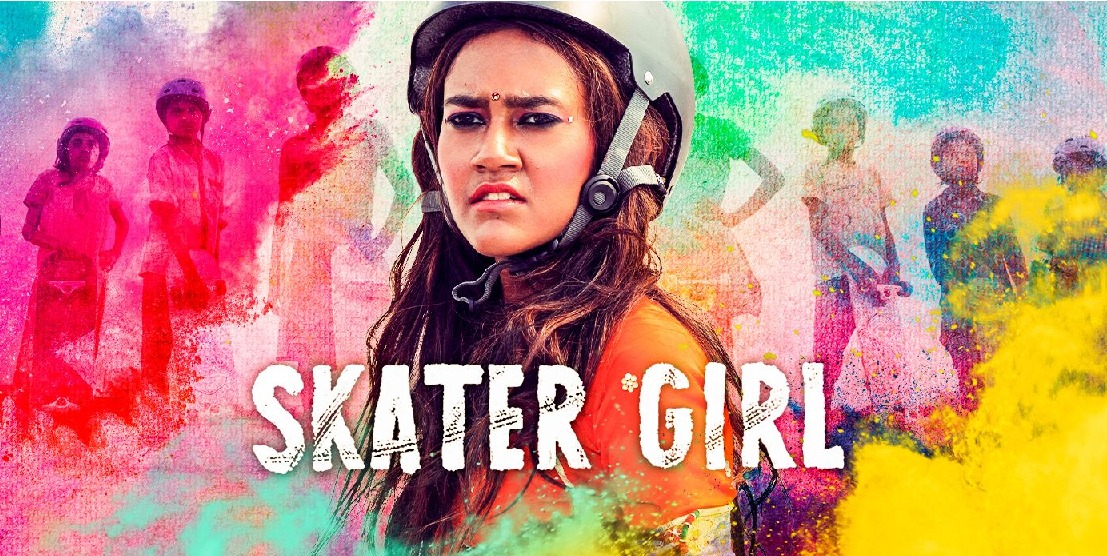 Skater Girl is a latest additional to the small-town turned big dream of a village girl who wants to pursue her dreams. Skater Girl has released on Netflix on the 11th of May 2021 and is already winning hearts as a warm and encouraging movie. The lead cast of the movie is Rachel Saanchita Gupta, Amy Maghera, Jonathan Readwin among many others as well. The movie is directed by Manjari Makijany. The story is about a simple small town girl who finds true joy in skate-boarding and goes on to discover the sport with the help of some new people.
Prerna Bhil, has stopped going to school since her education cannot be afforded and lives in a a conservative society where her parents only want to get her married off now. When she discovers skateboarding, Prerna dreams of competing in a national skateboarding event that can change her life forever. When Jessica arrives to India on a personal mission, the children of the village find wheels to their dreams on skateboards through her. Erick from Los Angeles also joins Jessica as they help the village dream big with skateboards. The journey of Prerna as she goes through this journey is what the story unfolds for us. Living in a small village with a patriarchal society, there are a lot of hurdles that Prerna has to face- right from facing the backlash because she is a girl right upto her not being accepted in the society since she is a low caste. The story takes you through the journey of Prerna as she explores her dreams.
The story is a simple story that will touch your hearts without any melodrama or hype to keep you hooked. The struggles of people living in small villages with orthodox societies is what the story highlights and though many may not believe, this is the truth of our world. If you are up for some emotional and happy chase, you should watch Skater Girl.
Skater Girl Movie full Details- Trailer, Review, Cast, Release Date, Streaming Platform(OTT), Director-
Skater Girl Movie is releasing on Netflix on date 11-June-2021. we would refresh you once we found any information about the next Part of the Movie.
| Title | Skater Girl |
| --- | --- |
| Language | English, Hindi, Tamil & Telugu |
| Genres | Drama, Family, Sports |
| Episodes | NA |
| Running Time | 1h 47min |
| OTT Platform | Netflix |
| Released Date | 11-Jun-21 |
| Directed By | Manjari Makijany |
| Written By | Manjari Makijany |
| Produced By | Manjari Makijany |
Skater Girl Cast
| Actor/Actress Name | Movie Role Play Name |
| --- | --- |
| Amy Maghera | Jessica (as Amrit Maghera) |
| Waheeda Rehman | Maharani |
| Rachel Saanchita Gupta | Prerna (as Rachel Sanchita Gupta) |
| Anurag Arora | Mahesh |
| Vinayak Gupta | Subodh |
| Anish Christopher Kevin | (self – skater) |
| Ankit Yadav | Vikram (as Ankit Rao) |
| Jonathan Readwin | Erick |
| Kamlesh Gill | Dadi |
| Swati Das | Shanti |
| Janthavy Norton | Self – skater |
| Sahidur Rahaman | Police officer |
| Shraddha Gaikwad | Gunjan |
Watch Skater Girl Trailer Here
Skater Girl review- The village girl who dared to dream on wheels.